CALGARY ATTIC VENTILATION
Attic ventilation is one of the most important parts of roofing. Proper attic ventilation extends the life of a roof and reduces the potential for problems because it minimizes the temperature differential between the attic and the outside air.
Trapped heat and moisture can raise energy costs, create ice dams, and damage roof system components. In extreme cases where temperatures reach 150° F (65° C), damage can occur to the attic's structural integrity as well as to nearby property.
Condensation that forms inside attics can be caused by moisture from household appliances, such as washing machines, dishwashers, bathtubs, showers, and driers that are improperly ventilated through the roof. In some cases the condensation can be severe enough to be mistaken for a roof leak.
Proper ventilation will remove moisture and heat from the attic and keep your attic dry and cold.
How do we fix it?
When we visit a property where an attic issue has been present for a few years, we need to deal with more than just an attic ventilation adjustment.
West Quality Roofing & Exteriors Inc. coordinates its work with the services of trusted business partners to manage your attic mold remediation, vapor barrier replacement and blow-in or batt insulation replacement.
At West Quality Roofing & Exteriors Inc, our goal is to fix the issue once for all!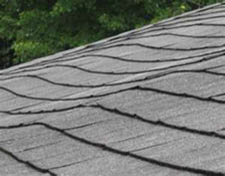 Wood Surfaces
Find out more
Condensation can cause dry rot or the deterioration of the adhesives used in plywood and/or Oriented Strand Board (OSB).
This occurs because one side of the decking is unable to "breathe" and traps moisture. The roof deck will eventually warp or deteriorate enough to become spongy and dangerous to walk on.
The result is sagging between the rafters (deck deflection).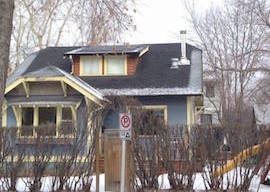 Colder Climates
Find out more
High inside humidity (40% or greater) combined with low outside temperatures (32F/0C or colder) can cause frost to form on the bottom of the roof deck.
This occurs most commonly in colder climates or in climates with extreme temperature changes.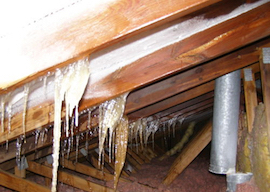 Ice Dams
Find out more
Ice dams are the result of melting snow continually refreezing at the roof perimeter and then backing up under the shingles and causing leaks.
Proper ventilation used in conjunction with heavy insulation and an air barrier can create a Cold Roof Assembly which will help eliminate ice dams.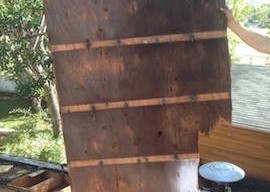 Moisture
Find out more
Insulation can trap moisture which will reduce the R-value of the insulation and create an ideal environment for the propagation of certain mould, spores, and fungi.
There is also the potential of mildew which is both damaging to the structure and can cause health problems like asthma or lung infections. The roof system itself will deteriorate prematurely under these conditions.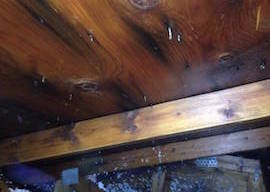 Metal Surfaces
Find out more
Water vapor will condense first on metal surfaces and will eventually cause the metal to rust.
Heads can rust off nails, metal plumbing straps or straps holding HVAC ducting can rust causing the ducting to crash down on top of the ceiling joists or through a suspended ceiling.
This problem is more common in humid climates.
Client referrals are our reward, so we strive for 100% customer satisfaction before every project is considered complete.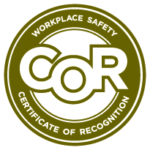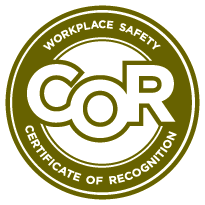 Well I'm the talk of my neighbourhood!!! A brand new roof in just ONE DAY? My neighbours and I were blown away. Not one person that I spoke to had their roofs replaced with such efficiency and with such professionalism. The quality of the work was amazing and did I mention that it didn't look like ANYONE was on my property after they had left? My property was SPIC and SPAN!!! The team at West Quality Construction Inc. are the ultimate professionals and would recommend them to anyone! Thank you for making my life easier.

– C. Joly
Anyone looking to replace siding would be well advised to hire West Quality Construction Inc. We had our late 1950's bungalow stripped to the bones this August 2014; they then installed insulation, Hardi Board siding, eaves and soffit with our complete satisfaction. The siding crew (Eric & Caroline) took care of every detail from stripping off the old stucco and two layers of siding to always cleaning up after each day's work.

This company is very professional leaving us extremely satisfied with all aspects of their work.

Donna & Murray David
This is a letter of reference to recommend West Quality Construction Inc as a respectful, knowledgeable roofing and siding company who always act with respect and professionalism on my sites.
Their quality of work and competitive pricing are hard to match.
An excellent understanding of attic ventilation and proper attic function on new and existing homes puts them far above other roofing companies I've worked with.

I always receive top notch service from West Quality on all our jobs large or small accompanied with helpful, innovative construction solutions.

I would recommend West Quality Construction Inc to anyone in the market for exterior renovation either new home, reno or attic restoration.

Mike Cortese
O2 developments